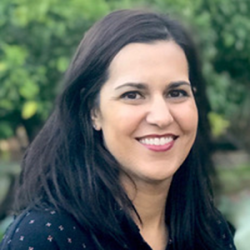 Deena Lin
( She/Her/Hers )
Lecturer Faculty
Philosophy and Religion
Email: deenalin@sfsu.edu
Location: Zoom
Office Hours:
Wed:
11:00 a.m. - 12:00 p.m.
Philosophy of Religion
Poststructuralist Philosophy
Deconstructive Theology
Theology of the Body
Feminist Philosophy & Theology
Comparative World Religions
Mysticism of Meister Eckhart
Religious Pluralism
Critical Theory
PHIL 110: Introduction to Critical Thinking I
PHIL 130: Intro. To Philosophy of the Arts
PHIL 502: World Religions
PHIL 500: Philosophy of Religion
PHIL 525/RELS 300: Nature of Religious Experience
Books
Butler on Whitehead: On the Occasion. Roland Faber, Michael Halewood, and Deena M. Lin., Eds. (Lexington Books, 2012).
Articles
"Welcoming Syrian Life: Recognitions of Immanent Vulnerability" in Roland Faber and Jeremy Fackenthal, Eds., Whitehead and Continental Philosophy in the Twenty-First Century: Dislocations (Lexington Books, 2019).
"Probing Identity: Challenging Essentializations of the Self in Ontology. A Response to Gereon Kopf" in Ingolf Dalferth and Trevor Kimball, Eds., Self or No-Self?: The Debate about Selflessness and the Sense of Self (Mohr Siebeck, 2017).
Book Reviews
Review of White Christian Privilege: The Illusion of Religious Equality in America by Khyati Y. Joshi (NYU Press, 2020) in Reading Religion (American Academy of Religion's book review site) (Fall 2021).
Review of Faith After Doubt: Why Your Beliefs Stopped Working and What To Do About It by Brian D. McLaren (St. Martin's, 2021) in Socio-Historical Examination of Religion and Ministry (SHERM) (Fall 2021).