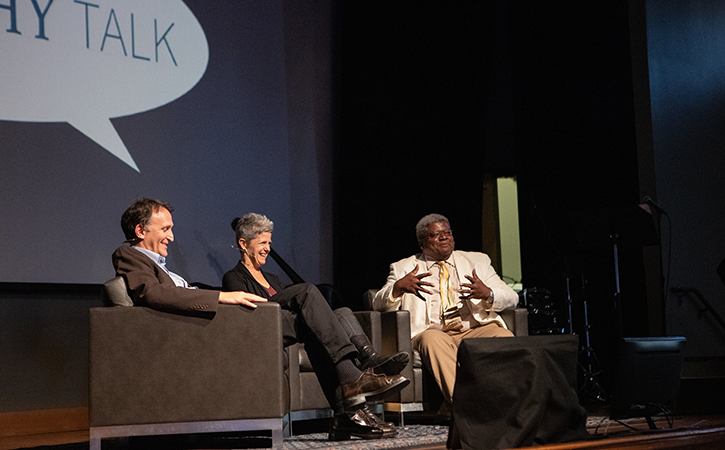 Shelley Wilcox, Josh Landy and Ken Taylor engage with the audience during a live recording of Philosophy Talk: Sanctuary Cities at San Francisco State University.
Philosophy representatives at the Graduate Fair.
The University, through its major departments, provides graduate students with part-time employment as teaching associates in courses related to their area of advanced study. The appointments usually involve teaching classroom and/or laboratory courses, assessing student performance, and tutoring students. The students assist faculty with field experiences, supervision, and/or research projects. To be eligible, a student must at a minimum:
Be admitted to classified or conditionally classified status in a graduate degree program at SF State and have a cumulative grade point average of 3.0 (B) or better in all course work taken at SF State while in post-baccalaureate status.
Be a degree-seeking graduate student in the academic department in which she/he is employed to perform instruction.
Not be assigned to a course in which academic credit is being earned.
Have thorough knowledge and understanding of the subject matter of the discipline in which the assignment is made.
Possess the ability to communicate and relate well to others within the academic environment and the ability to instruct and constructively evaluate student performance.
Be registered at SF State during the term of appointment in a minimum of 3 units of course work directly applicable to the graduate degree (including courses for credit toward completion of the graduate degree offered through CEL), or have registered for a Culminating Experience course in the previous semester. Students enrolled in the CEL 499 continuous graduate enrollment program are eligible.
Not be appointed for more than four semesters.
Part-time Teaching Position 
Email completed application with attached CV to phlsphr@sfsu.edu.