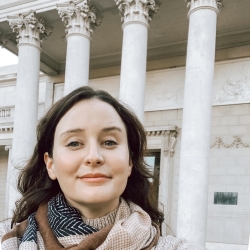 Olivia Walters
( She/Her/Hers )
Staff
Graduate Program Administrative Assistant
Phone: (415) 338-1596
Email: grdphl@sfsu.edu
Location: Humanities Building Room 388
B.A. Classics (2020), San Francisco State University.
Olivia specializes in the Graduate Program and is the point of contact for questions regarding admissions requirements, the application process, processing forms such as the ATC and PCE, scheduling thesis defenses, travel funding and alumni development. She can also assist with questions regarding SF Scholars and the Undergraduate programs. 
Olivia studied Chemistry at College of the Sequoias and worked in a clinical laboratory prior to arriving at San Francisco State. She completed her B.A. degree in Classics with an emphasis in Classical Archaeology in 2020 and is now pursuing an M.A. in Classics at San Francisco State University.
Her areas of interests include political philosophy and archaeology of Ancient Rome and Egypt and in particular has research interest in the intersection of funerary rites, religion, virtue and politics. She has reading knowledge in Latin and Greek, with some experience in Middle Egyptian. She actively participates in the M.A.G.I.C research group and recently presented on "Conceptions of Virtue and Ma'at in Ancient Egypt".