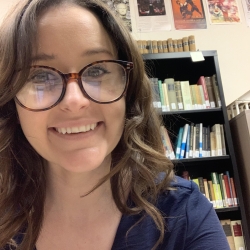 Olivia Walters
( She/Her/Hers )
Staff
Graduate Program Coordinator
Phone: (415) 338-1596
Email: grdphl@sfsu.edu
Location: HUM 388
Office Hours:
Tue:
9:00 a.m. - 5:00 p.m.
Thu:
9:00 a.m. - 5:00 p.m.
Fri:
9:00 a.m. - 5:00 p.m.
Olivia will be available in person Tuesday, Thursday and Friday 9 a.m. - 5 p.m. To schedule an appointment for graduation paperwork review or general inquiries, schedule a meeting time here via Calendly.
In addition to completing extensive coursework in chemistry and biology, I received my B.A. in Classics from San Francisco State (2020) and am currently working on my M.A. in Classics. I am currently doing research on Ovid's Metamorphoses as a representation of the way the body holds and copes with physical and emotional trauma. I have a wide range of interests in the classical world including material culture, natural history, Latin Literature and Philosophy (Ovid, Cicero, Seneca), Gender, Love and Sexuality in the Ancient World, and Egyptology.  My previous professional work experience includes working as a Microbiology Laboratory Technician, and a Lab Technician for the College of the Sequoias. My contemporary scientific interests include evolutionary biochemistry, neurochemistry, and the development of life and consciousness.