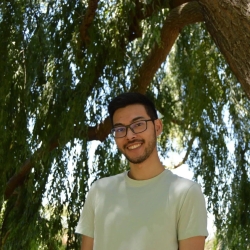 Justin Shebert
( He/Him/His )
Graduate Teaching Associate
Email: jshebert@mail.sfsu.edu
Location: Humanities 391A
Hi all! I am originally from Elk Grove, California. I first attended community college at Sacramento City College and Cosumnes River College studying philosophy and then transferred to UC Berkeley where I earned my B.A. in Philosophy in 2019. My main philosophical interests include applied ethics, environmental ethics, moral psychology, aesthetics, and Descartes.
I have worked as a music instructor for four years where I discovered my love of teaching. I decided that I wanted to combine my love of teaching with my love of philosophy and teach philosophy at the community college level. My goal is to make philosophy more accessible for everyone.
During my free time I enjoy playing music and trying to learn new instruments, playing video games with my friends, and cooking.