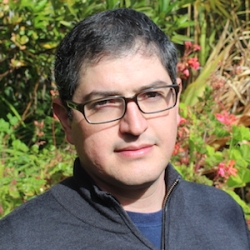 Carlos Montemayor
( He/Him/His )
Professor and Advisor for B.A. in Philosophy: Concentration in Law, Graduate Coordinator for Continuing Students
Philosophy of Mind and Psychology, Metaphysics and Epistemology
Phone: (415) 338-7029
Email: cmontema@sfsu.edu
Location: Humanities 322
Office Hours:
Tue:
11:00 a.m. - 1:00 p.m.
Office hours are via Zoom. Please email to schedule an appointment and get the Zoom link.
New Book!
Montemayor, C. (2023) The Prospect of a Humanitarian Artificial Intelligence: Agency and Alignment.
Journal Article
"Types of Consciousness: The Diversity Problem." Frontiers in Systems Neuroscience, 15:38. November 2021.
Book Chapter
Wittmann, M. & Montemayor, C. (2021). Reinterpreting the Einstein-Bergson Debate through Contemporary Neuroscience. In A. Campo & S. Gozzano (Ed.), Einstein vs. Bergson: An Enduring Quarrel on Time (pp. 349-374). Berlin, Boston: De Gruyter.
Book on the Epistemology of Attention
"Knowledge, Dexterity, and Attention: A Theory of Epistemic Agency."
Contemporary cognitive science clearly tells us that attention is modulated for speech and action. While these forms of goal-directed attention are very well researched in psychology, they have not been sufficiently studied by epistemologists. In this book, Abrol Fairweather and Carlos Montemayor develop and defend a theory of epistemic achievements that requires the manifestation of cognitive agency. They examine empirical work on the psychology of attention and assertion, and use it to ground a normative theory of epistemic achievements and virtues. The resulting study is the first sustained naturalized virtue epistemology, and will be of interest to readers in epistemology, cognitive science, and beyond.