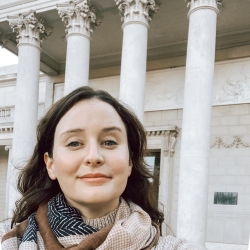 Olivia Walters
( She/Her/Hers )
Staff
Graduate Program Administrative Assistant
Phone: (415) 338-1596
Email: grdphl@sfsu.edu
Location: Humanities Building Room 388
Office Hours:
Thu:
9:00 am - 4:00 pm
Zoom or by email
Fri:
9:00 am - 1:30 pm
Zoom or by email
B.A. Classics (2020), San Francisco State University.
Olivia specializes in the Graduate Program and is the point of contact for questions regarding admissions requirements, the application process, processing forms such as the ATC and PCE, scheduling thesis defenses, travel funding and alumni development. She can also assist with questions regarding SF Scholars and the Undergraduate programs. 
Set up an appointment for a meeting here.