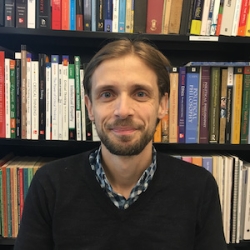 Kristian Kemtrup
Lecturer Faculty
Metaphysics, Philosophy of Mind and Psychology
Email: kemtrup@sfsu.edu
Location: HUM 571
Office Hours:
Tue:
2:00 p.m. - 3:00 p.m.
Thu:
2:00 p.m. - 3:00 p.m.
Kristian Kemtrup has taught at San Francisco State University since 2007, obtaining his Ph.D. from The Graduate Center of the City University of New York in 2011. He now splits his time between teaching and seeing psychotherapy patients in private practice as a Licensed Marriage and Family Therapist after completing an MA in Clinical Counseling at The Wright Institute in 2015 and internships and trainings at The Pacific Center, Marina Counseling Center, and The San Francisco Center for Psychoanalysis. He is currently interested in the metaphysics of mind and criticisms of panpsychism, Kripke's semantic externalism, the philosophy of psychiatry and psychology, the unexplored overlap between contemporary psychoanalysis and philosophy, criticisms of cognitivism, and the philosophy of film.
Philosophy of Language
Metaphysics
Philosophy and Film
Being and Knowing
Philosophical Analysis (GWAR)
Introduction to Philosophy
Critical Thinking 
First Year Composition
Elements of Writing