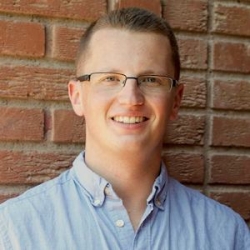 Jeremy Reid
Assistant Professor, Graduate Coordinator and SF Scholars advisor
Ancient Philosophy and Virtue Ethics
Email: jwreid@sfsu.edu
Location: Humanities Building Room 360
Office hours by appointment only. Please see signup sheet on the front door of his office.
Jeremy Reid's research focuses on the history of ethics and political philosophy, primarily in Greek and Roman philosophy. On the political side, he is interested in the development of constitutionalism, democratic theory and the use of moral psychology and theories of character in political philosophy, particularly in non-ideal circumstances. On the ethical side, Reid has worked most on ancient theories of love, sex and friendship. As somebody who is not yet a Sage, he is also interested more generally in how to progress toward virtue and what it means to have lower grades of virtue. He is at his happiest working on Plato and the Stoics (who are both fun and probably right), though he also has major research and teaching interests in Aristotle, Cicero, Hobbes and contemporary virtue ethics.
Before joining SF State, Reid was a postdoctoral research associate at University of Maryland, College Park. He earned his Ph.D. in philosophy at University of Arizona and grew up in Auckland, New Zealand, where he focused his undergraduate studies in philosophy, musicology and the classical languages.
"Plato on Democracy", in V. Arena & E. Robinson (eds.), The Cambridge History of Democracy, Cambridge University Press (forthcoming). 
"Stoic Forgiveness," in R. Enright & G. Pettigrove (eds.), Routledge Handbook of Forgiveness, Routledge (forthcoming). 
"Changing the Laws of the Laws", Ancient Philosophy, 41/2, 413–441. 
"The Mixed Constitution in Plato's Laws", Australasian Journal of Philosophy, 2021, 99/1, 1–18.  
"The Offices of Magnesia", Polis, 2020, 37/3, 567–589.  
"Virtue, Rule-Following, and Absolute Prohibitions," Journal of the American Philosophical Association, Spring 2019, Vol. 5, Issue 1, 78–97. 
"Plato on Love and Sex", in A. Martin (ed.), Routledge Handbook of Love in Philosophy, Routledge, 2019, 105–115. 
"Unfamiliar Voices: Harmonizing the Non-Socratic Speeches and Plato's Psychology", in P. Destrée & Z. Giannopoulou (eds.), Plato's Symposium: A Critical Guide, Cambridge University Press, 2017, 28–47. 
Panos Dimas, Melissa Lane, and Susan Sauvé Meyer (eds.), Plato's Statesman: A Philosophical Discussion, in Notre Dame Philosophical Reviews (forthcoming). 

Rebecca Stangl, Neither Heroes Nor Saints: Ordinary Virtue, Extraordinary Virtue, and Self-Cultivation, in Mind (forthcoming). 

George Duke, Aristotle and Law: The Politics of Nomos, in the Philosophical Review, 2021, 130/4, 583–587. 

Joshua Weinstein, Plato's Threefold City and Soul, in The Review of Politics, 2019, 81/4, 689–691. 

Dominic O'Meara, Cosmology and Politics in Plato's Later Works, in the Archiv für Geschichte der Philosophie, 2019, 101/2, 310–313. 
(with Julia Annas) Virtue and Action: Selected Papers by Rosalind Hursthouse, Oxford University Press (2023).