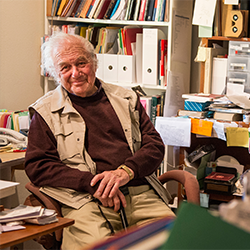 Jacob Needleman
Professor Emeritus
Philosophy and Religion
Email: jneedle@sfsu.edu
Office hours are by appointment only over Zoom. Please email Dr. Needleman directly to set up an appointment.
Jacob Needleman is Professor of Philosophy at San Francisco State University, former Visiting Professor at Duxx Graduate School of Business Leadership in Monterrey, Mexico, and former Director of the Center for the study of New Religions at The Graduate Theological Union in Berkeley, California. He was educated in philosophy at Harvard, Yale and the University of Freiburg, Germany. He has also served as Research Associate at the Rockefeller Institute for Medical Research, as a Research Fellow at Union Theological Seminary, as Adjunct Professor of Medical Ethics at the University of California Medical School and as guest Professor of Religious Studies at the Sorbonne, Paris (1992).
He is the author of The New Religions, a pioneering study of the new American spirituality, The Wisdom of Love, Money and the Meaning of Life, A Sense of the Cosmos, Lost Christianity, The Heart of Philosophy, The Way of the Physician, Time and the Soul, Sorcerers, a novel, The American Soul , Why Can't We Be Good? and The Essential Marcus Aurelius. He was also General Editor of the Penguin Metaphysical Library, a highly acclaimed selection of sixteen reprinted texts dealing with the contemporary search for spiritual ideas and practice. In addition, he has been general editor of the Element Books series, The Spirit of Philosophy-aimed at re-positioning the teachings of the great philosophers of the West to show their relevance to the modern spiritual quest. Among the other books he has authored or edited: The Tao Te Ching (Introductory Essay), Consciousness and Tradition, Real Philosophy, Modern Esoteric Spirituality and many others.
In addition to his teaching and writing, he serves as a consultant in the fields of business, psychology, education, medical ethics and philanthropy, and is increasingly well known as an organizer and moderator of conferences in these fields. He has also been featured on Bill Moyers' acclaimed PBS series, "A World of Ideas." His most recent books are An Unknown World: Notes on the Meaning of the Earth published by Tarcher/Penguin, 2012. and Necessary Wisdom published by Fearless Books, 2013.