Artificial Intelligence (AI) is becoming an integral technology in many areas (medicine, health, autonomous driving cars, business, loan approvals, law enforcement, distribution of government and health services, news filtering, etc.) and is often considered the driving force of a 4th technological revolution.
Computer Science Department, College of Business and Philosophy Department
The impact of AI is expanding rapidly, but due to its complexity it offers challenges to ensuring proper, ethical, unbiased and transparent operations. This is evidenced by increasing reporting on the use and misuse of AI in government and media, and calls for greater scrutiny and oversight. Skills related to ethical use of AI will be more and more important for both developers and users of AI technology. To address these needs, SF State's Computer Science Department, College of Business and Philosophy Department established a multi-College Graduate Certificate in Ethical AI. Our approach to this certificate is unique in its multidisciplinary and multi-College nature, which involves three critical areas necessary to understanding this subject, as outlined below. Students must take one course from each of these three areas (total of 9 units) and also complete a self reflection research paper (1 unit):
AI Technologies and Applications: courses in this core area focus on algorithmic and technical principles of AI and can be selected to fit the background of graduate students from Computer Science, Business or Philosophy.
Ethics and Compliance in Business: focus on integrity, understanding and applying managerial ethical decision-making; understanding regulatory compliance as it relates to organizational functions; developing ethics training, and evaluating stakeholder impacts.
Ethics Principles: courses on the ethical, political, and social ramifications of current and emerging uses of AI.
Self-reflection Research Paper: the certificate program requires a culminating research paper to demonstrate student self-reflection on specific issues in AI ethics. Students take a 1-unit independent study in conjunction with this course, to be supervised by one of the faculty advisors (see below for a list of advisors).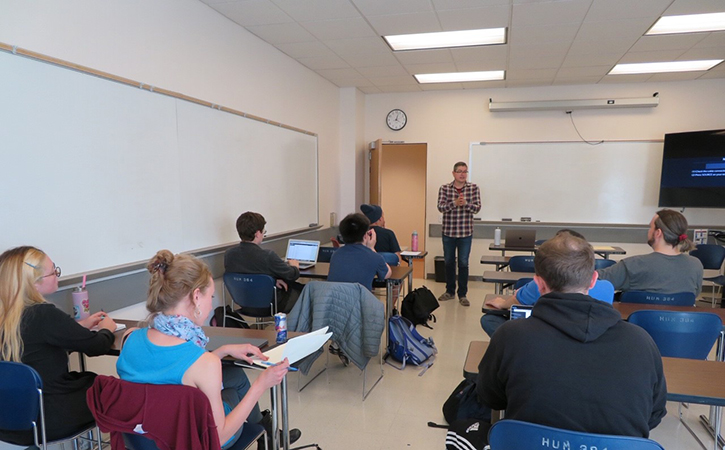 Since the Certificate has multiple overlapping courses with current M.S., M.B.A. and M.A. programs in Computer Science, Management and Philosophy, our matriculated graduate students can easily complete the Certificate with minimal overhead. This certificate is also designed to fit the needs of professionals from industry who can use it to continue their education and gain an additional credential that will be appealing to employers who are concerned about being good stewards of AI and responsibly managing their business practices as more regulation and public scrutiny of AI comes to pass.
How to Apply and Obtain the Certificate
We welcome applications from current matriculated San Francisco State graduate students (domestic and international) and non-matriculated post-baccalaureate domestic students interested in the multidisciplinary study of Artificial Intelligence and Ethics.
Current Matriculated Domestic and International Graduate Students
Current matriculated domestic and international graduate students at San Francisco State University need to download the application form and follow the instructions on the form, obtain the signature by your chosen graduate certificate coordinator, then bring the package to San Francisco State Division of Graduate Studies (ADM 250).
Domestic Non-Matriculated Students
Domestic non-matriculated students must formally apply to the graduate certificate in Artificial Intelligence (AI) Ethics through Cal State Apply. Important: to apply for certificates please go to your "EXTENDED PROFILE" and under "DEGREE GOAL" select "CERTIFICATE" then choose "Graduate Certificate in Ethical Artificial Intelligence" and SAVE. Applicants are required to upload unofficial transcripts, a statement of interest, and current CV/Resume to Cal State Apply.  In addition, as part of the application you must identify your preferred faculty mentor whose field of research most closely aligns with your background and interests (see the faculty list below).
Applications are due by August 15 for Fall admission or January 15 for Spring admission, unless the academic department requires an earlier deadline.
Students in the certificate program will be guided and advised by the Supervisory Committee comprising faculty from San Francisco State's programs in Computer Science, Business and Philosophy, and these programs' graduate advisors.
In consultation with your faculty mentor and upon completion of certificate requirements, you must apply for award of the graduate certificate in Artificial Intelligence (AI) Ethics. To apply for award, you must submit a  Certificate Approved Program (CAP) form to the Division of Graduate Studies and submit a $7.00 processing fee to the Bursar's Office.
If you have questions about the program, please contact one of the following faculty in the AI Certificate Supervisory Committee. All are available to respond to inquiries, but you should start by contacting the one whose field of research most closely aligns with your background and interests.
Prof. D. Kleinrichert, College of Business, SF State. Expertise in business ethics, corporate social responsibility, risk management, and environmental sustainability. At SF State since 2007. 
Prof. C. Montemayor, Philosophy Department, SF State. Expertise in philosophy of mind, cognitive science, philosophy of psychology and epistemology. At SF State since 2009. 
Prof. D. Petkovic, CS Department, SF State, IEEE Life fellow. Expertise in AI, Usability and SW Engineering. 20 years of industry experience. At SF State since 2003.