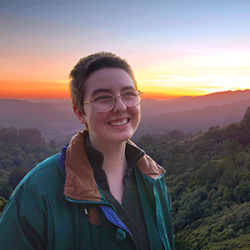 Calvin Anderson
( He/Him/His )
Graduate Teaching Associate
Email: aandersonkibler@sfsu.edu
Location: Zoom
I received my Bachelor's degree from Rhodes College (Memphis, TN) — in Philosophy — with a minor in Gender and Sexuality Studies. I received my first M.A. — in Education — from Rhodes College as well, specializing in secondary government & political science. My first Master's thesis pertained to anti-Communist rhetoric present in Tennessee civics textbooks. 
I am working on my second M.A. — in Philosophy — focusing on the ethics of death and dying, and our collective relationship to life-preservation, post-humous respect, and bodily harms. I am most interested in how far we might cash out utilitarian notions of self-determination and liberty. This also leads me towards a particular interest in feminist philosophy and social & political conceptions of ownership and autonomy. 
Outside of my academic work, I like to spend time with my cat, Charlotte, play video games with my friends online, watch movies, and go thrifting.