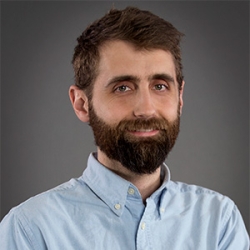 Justin Kitchen
Lecturer Faculty
Ethics, Virtue Epistemology, History of Philosophy
Email: kitchen@sfsu.edu
Location: Zoom
Office Hours:
Tue:
10:30 a.m. - 11:30 a.m.
Thu:
10:30 a.m. - 11:30 a.m.
I graduated with a B.A. in Philosophy and Religion and an M.A. in Philosophy from San Francisco State University. I have been teaching philosophy for SF State and Cal State Northridge since 2014 and 2016 respectively. My interests include virtue ethics, virtue epistemology, Indian philosophy and Ancient Hellenistic philosophy. I try to bring the 'philosophy as a way of life' approach into my courses by provoking inquiry into the good life, engaging in a diversity of perspectives, encouraging students to lead discussions, and having them test the practical dimensions of the theories they study.
Zoom Meeting Information:
Zoom Meeting ID 869 3485 1667
Zoom Password: 299728