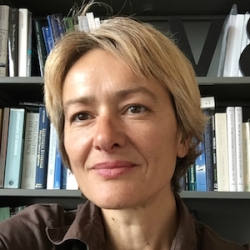 Isabelle Peschard
Associate Professor Emerita
Philosophy of Science and Ethics
Email: peschard@sfsu.edu
Location: Humanities Building Room 445
Office Hours:
Wed:
2:00 p.m. - 3:30 p.m.
The interaction between experimental and conceptual developments in scientific modeling.
The embodiment of cognition.
The normative components of our dealings with risk (identification, assessment, management).
Ethical risks, that emerge with activities that have consequences that may turn out to be deeply unethical.
Other animals.
Philosophy of Animals
Philosophy of Science
Philosophy of Risk
Seminar on evidence and reliability
Seminar on embodied cognition
Seminar on animal ethics
I. March 20-21, 2009
II. March 30-31, 2010
III. September 16-17, 2011
Peschard, I., Benetreau-Dupin, Y. and Wessels, C., Philosophy of Risk: Science and Values. Routledge (Under contract and submitted)
The topic of risk is as fascinating as it is ordinary. Risk is subjective and it is objective, individual and societal, personal and general; dealing with risk is, for a large part, what life is about and also what politics is about. Risk is about the world, but nothing that is in the world yet. There is risk only with regards to possibilities. But not some 'in abstracto' kinds of possibility; there is only risk when someone or something is 'exposed' to this possibility. It is a possibility that something 'bad' will happen to them, something that 'we', who see a risk there, view as a 'bad' thing, as bringing about some form of harm or loss. If we did not care about the future, about things turning out one way or another, we would not have the concept of risk. So, what we see as risks and what we do about them says a lot about 'us', about what and who we care about.
What we identify as risks, at the individual and societal levels, how we perceive them and how we manage them, shapes our lives and the societies we live in.  It is present in all areas of life, and it is an object of study for a myriad of disciplines, social and physical sciences, philosophy, psychology, business, economics, interested in the physical, psychological, social, emotional, rational, or ethical dimensions of our experience. Risk or, more precisely, our composite experience with risk, raises questions for each of those disciplines.
As Wittgenstein says of length, to better understand what risk is for us, what it represents in our individual and societal lives, we need to understand better the different ways in which we relate to it, through what kinds of practice, from rational modeling to perception to assessment to management, what choices, goals and values are shaping those relations with risk. We learn what dealing with risk means by learning what it is to deal with risk, with all its intermingling aspects.
Experimental Side of Modeling (editor with Bas van Fraassen). Minnesota Studies in the Philosophy of Science, vol. 21, University of Minnesota Press.