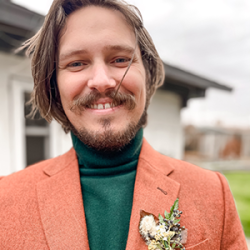 Quinn Thurley
Graduate Teaching Associate
Email: qthurley@mail.sfsu.edu
Office Hours:
Thu:
12:45 pm - 1:45 pm
over Zoom
Email instructor directly for an alternate Zoom appointment.
I was born and raised and am currently in Bakersfield, California with my wife, daughter, and dog. When I'm not doing philosophy, I like playing music, going on hikes and playing board games. 
I went to Cabrillo College in Santa Cruz, before returning to Bakersfield, earning my A.A. degree in Philosophy at Bakersfield College, and my B.A. degree at California State University, Bakersfield.
During my time at CSUB, I studied moral and metaphysical conceptions of personhood, philosophy of mind, existentialism, and issues concerning moral responsibility and free will. The philosophers who had the biggest impact on me during this time were Simone De Beauvoir, Peter Singer, and P.F. Strawson. 
My current areas of research are in social and ethical ontology, and phenomenology as well as practical and applied ethics particularly with regards to the environment and social life.