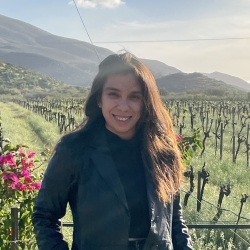 Itzel Garcia
Visiting Assistant Professor
Philosophy and Law
Email: iagarcia@sfsu.edu
Location: Humanities 333
My research and teaching interests are in political and legal philosophy, with a particular interest on how the two intersect with morality when applied to the topic of law enforcement. I am currently working on theorizing an account of police authority that conceptualizes it as primarily a kind of liability conferring normative power, and plan to write about the implications of my work for border enforcement agencies in the near future. 
In addition to teaching and research, I currently serve as the advisor for SFSU's Concentration in Philosophy and Law. 
Before coming to SFSU I earned my Ph.D. in philosophy at the University of California, Irvine and my B.A. at the University of California, Santa Barbara. For more, visit my personal website.