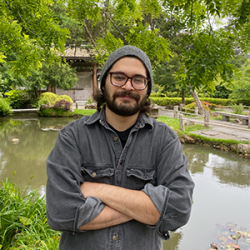 John Archuleta
Graduate Teaching Associate
Email: jarchuleta@mail.sfsu.edu
Location: Humanities 391A
Feel free to set up an appointment for office hours
Hello! My name is John Archuleta and am excited to be your GTA this semester. My love for philosophy started in community college, and after finishing my A.A. at Diablo Valley College I transferred to San Francisco State to complete a B.A. in Philosophy - I graduated in the Spring of 2020, and went right on to pursue my M.A. at SF State in the Fall. 
While I have decided to pursue a career in philosophy for many reasons, the primary draw has been a want to teach and pass on the knowledge and ideas that I have absorbed over the course of my studies. My primary interests within philosophy are existentialism, moral and political philosophy, and non-Western thought. 
Outside of my academic work, I work in the craft coffee industry as a Barista and Coffee Roaster and have been doing it for about four to five years. A major part of my work in that industry is finding ways to make coffee more sustainable as well as sourced ethically.