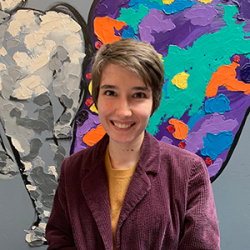 Francesca Felder
Graduate Teaching Associate
Email: ffelder@mail.sfsu.edu
Office Hours:
Mon:
11:00 am - 12:00 pm
over Zoom
Hello! I'm so excited to be your GTA. Before coming to San Francisco State University as a Masters student, I worked as a barista at three different coffee shops around the DC/Virginia area. Prior to that, I earned a degree in philosophy from Haverford College, in the suburbs of Philadelphia.
My academic interests include epistemology, feminist philosophy, critical race theory and social ontology. Further, I am committed to making philosophy more accessible. The best kind of philosophy requires an inclusive environment.
My pastimes include tending my houseplants and listening to podcasts.