Rights and Wrongs: A Constitution and Citizenship Day at SF State
Event Date: 
Monday, September 16 - 9:30 am

to

Tuesday, September 17 - 9:30 am
Location: 
J. Paul Leonard Library and Cesar Chavez Student Center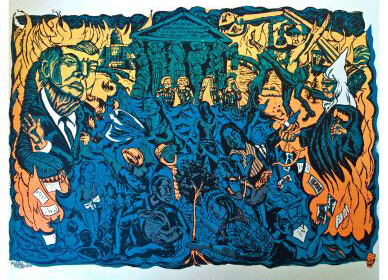 Rights and Wrongs: A Constitution and Citizenship Day Conference at SF State
As part of a nationwide celebration commemorating the 232nd anniversary of the U.S. Constitution, San Francisco State presents its annual conference providing opportunities to reflect critically on the past, present and future of constitutional rights, freedoms, citizenship, democracy, equality and justice. Keynote speakers: Bertrall Ross, Chancellor's Professor of Law, UC Berkeley, "Fixing Our Distorted Democracy," September 16, 4 p.m. - 5:30 p.m. K. Tsianina Lomawaima, professor of social transformation, Arizona State University, "More than Mascots! Less than Citizens? American Indians and the False Promises of U.
Event extras: 
Over the last few years, people living in the United States have participated in far-reaching debates and discussions about the U.S. Constitution. Many of these conversations have focused on democratic governance and its relationship to state and federal elections, foreign collusion and domestic conspiracy, political and ethical corruption, voting rights, legislative redistricting and presidential impeachment. Some have addressed core constitutional principles related to the separation of powers, checks and balances and federal-state relationships. Others have concerned specific constitutional provisions such as freedom of speech, freedom of the press, separation of church and state, privacy rights, rights to bear arms, protections against unreasonable searches and seizures, birthright citizenship, due process rights and rights of equal protection. Meanwhile, some of the most polarizing national discussions of 2017, 2018 and 2019 — about racialized policing, immigration restriction, sanctuary cities, health care, sexual harassment, LGBT rights, hate speech and gun control — have been framed as matters of constitutional meaning and significance. Just as important and revealing are the constitutional topics that much of the country has not been considering, including the rights of indigenous, colonized, incarcerated and institutionalized peoples on lands currently claimed by the United States.
What have we thought about the Constitution in the past and what do we think of it today? When, how, and why have we thought about the Constitution? How has the Constitution been used as a legal and cultural touchstone in the past and present? Has the Constitution supported the expansion of citizenship, democracy and equality or has it produced, preserved, and promoted social hierarchies? What does the Constitution reveal and obscure? Is the United States experiencing constitutional crises? Have the country's recent political troubles exposed longstanding problems with or new threats to the U.S. constitutional order? Can the history of the U.S. Constitution serve as a resource for people troubled by today's uses and abuses of U.S. power and politics? For those seeking social change, is the Constitution an opportunity or obstacle? Can and should it be followed, changed, modified or abandoned? Who makes meaning out of the U.S. Constitution and what meanings are made? What are the implications of our interpretations and transformations of the U.S. Constitution?S. Citizenship," September 17, 4 p.m. – 5:30 p.m. Free.
E-mail: 
marcs@sfsu.edu